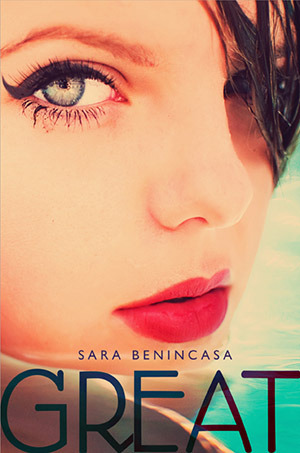 Sara Benincasa's Great is a modern reimagining of F. Scott Fitzgerald's The Great Gatsby. Set in the Hamptons, it chronicles the lifestyles of the young, rich, and semi-famous amidst both frivolity and tragedy. In some ways, reading this book was like watching a car crash – I knew what would happen but I was absorbed in it anyway.
The narrative hews fairly closely to the original. In this version, protagonist Naomi Rye comes to spend the summer with her famous culinary-goddess mother as mandated by the court post-divorce. She much prefers being in Chicago with her laid-back dad and out-and-proud lesbian best friend but this summer quickly becomes more tolerable when she begins a relationship with rich but relatable Jeff.
Jeff is best friends with Teddy Barrington, a pretentious jerk and oil heir, who has been dating flightly but friendly model Delilah Fairweather. Although their families have known each other for years, this is the first time Naomi is deeply included in the group – and from within, she sees Teddy's and Delilah's relationship struggle under Teddy's obvious affair with trashy townie Misti. Meanwhile, she also becomes friends with her mysterious neighbor Jacinta, founder of fashion and society blog "The Wanted," who has a perplexing obsession with Delilah.
As you can tell, the parallels are obvious. Delilah (Daisy) and Jacinta (Gatsby) grow closer but their relationship inevitably reaches a tragic conclusion as does Naomi (Nick) and Jeff 's (Jordan) and Teddy (Tom) and Misti's (Myrtle). Misti's fate is not quite as horrific as poor Myrtle's and Jacinta's ending differs slightly from Jay's, but the result of Naomi's mother's schemes show that these are careless, immoral people. To paraphrase Fitzgerald, the rich smash up things and people before moving on with a trail of rubbish in their wake.
I'm a fan of Gatsby but the parties are one of the highlights of Great in which Benincasa outdoes the original depiction. From an all-white party to a carnival with Ferris wheel, Jacinta goes big but believable compared to today's celebrity bashes. The descriptions make you want to be there, to be included in such a fantastically outrageous good time. Yet, in the proliferation of drugs/alcohol, selfies, and snobbery at these events, Benincasa, even more so than Fitzgerald did, is highlighting the dark side of fortune.
Another strong point of the book is it's usage of social media. Jacinta basically is a cyber-stalker, yet all these people want to be her friend so they can be showcased on her website. Her status and the status of these young socialites spring from her blog, which defines the who's who of East Hampton/NYC social circles. The Internet largely serves as a platform for social climbers at the top of the pyramid, but the ending demonstrates how it can actually serve as a powerful tool for the underdog.
I also appreciated the alteration of the traditional heterosexual relationship and it's repercussions on the plot, since LGBTQ rights are such a hot-button issue in today's world. Delilah's father is a staunchly conservative Republican senator, adding stress to her relationship with Jacinta as they face derision, dismay, and disgusting comments from the few people who know they're sexually involved. In contrast to Delilah, who may be actually gay or simply experimenting, we have Naomi's best friend Skags, who is up-front about her sexual orientation and is a fun, powerful supporting character.
The issues of sexuality are tied in with the notions of appearance present among both the male and female characters on the Hamptons. Both genders invest a lot into their sex appeal both in their body and wardrobe. Symbolically, instead of the eyes of Dr. Eckleburg on the billboard, there is a plastic surgeon holding fat. Both Naomi and Jacinta alter their style and manner to fit in, but only maintain their status while they're able to keep up appearances. Of course, in the end, none of them can be but who they are.
To conclude, I enjoyed reading Great, since it's a perfect summery beach read, but as with many retellings, it lacks some of the depth of the original. However, the shared spirit, symbolism, and moral spine make both books Great.
4 Stars