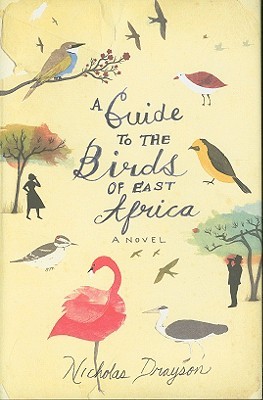 Firstly, a word on the cover: adorable. This has to be one of my favorite book covers, very eye-catching and original and true to the text. In fact, it was one of the reasons I picked up the book in the first place – I know, I know. I shouldn't be judging a book by its cover but to be honest, everyone does it and I'm no different than the average sucker.
Nicholas Drayson's A Guide to the Birds of East Africa is set in contemporary Kenya, where widower Mr. Malik has been participating in the weekly birdwalks hosted by the East African Ornithological Society, partly to improve his health, partly out of an interest in birds, and partly because of his secret crush on Rose, the passionate Scottish expatriate who leads the group. But just as Mr. Malik is ready to confess his affections by asking Rose to the event of the year, the Hunt Club Ball, his school-yard nemisis, fast-talking ladies' man Harry Khan, returns to Kenya and also falls for Rose. Thus begins a gentlemen's competition to find and identify the most birds in the area for the honor of asking Rose to the ball.
This tale is as sweet and humourous as it sounds by that description, but also vividly spotlights the modern political climate and the immigrant experience in Kenya. It's not just a love story in the most obvious sense, or at least not a love story about a romantic triangle. It's an ode to Kenya at its best and its worst and an adoration of love in its variety of forms, from friendship to familial. Mr. Malik has hidden passions not just for a woman, but for all of his various jobs and hobbies. And he also has secret regrets about loving too little, which is why he doesn't want to squander the opportunity now.
The story is recounted by an omniscient narrator, which is amusing because it almost seems like we're watching a BBC documentary on nature both human and avian. Now and then, the narrator will give asides to the plot, like on how to go about bribing government officials. Also, this allows for additional information – about the birds, about the personal backgrounds, about Kenya itself – that would have been an annoying info-dump if given by dialogue.
The humor can be a little childish at times (i.e. the hadada contest) while satirical at others (i.e. the newspaper column). But I think that reflected the multi-faceted nature of Mr. Malik's character, even though the former wasn't entirely to my taste and a bit immature for adult fiction. And it was an adult book – the characters are old and I can't imagine a teenager wanting to read about the hijinks of grandfathers. This gave the tale a charming old-world feel that I enjoyed as it came across almost as historical fiction since history had such an impact on the current-day goings on.
I think most novels are bloated, but this one could've used a few pages more as the pacing was off. It had a lot packed in – a hero, a villain, theft, action and adventure, comedic sidekicks, and corruption – yet it started slow and the ending felt rushed, just when I wanted to linger on. No spoilers, but the conclusion is pretty satisfying in an unexpected way.
4 Stars