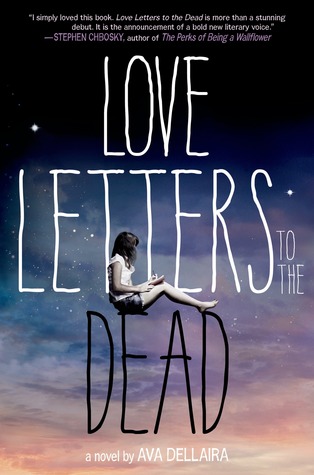 Laurel's sister May is dead. She died young, just months before Laurel begins her freshman year of high school. So when Laurel's English teacher gives the class the assignment of writing letters to the dead, she chooses to write to Kurt Cobain first. He was her sister's favorite singer and it helps her feel close to May. But it doesn't stop there as Laurel writes what she can't say aloud to Heath Ledger, Amelia Earhart, Amy Winehouse, and a slew of other famous deceased figures. She talks about starting a new school, getting her first boyfriend, and her memories of May, slowly revealing the truth of the night May died and the moments that led to the tragedy.
Ava Dellaira's Love Letters to the Dead is both darker and more touching than I expected. Unlike many young adult or chick-lit books where the climactic reveal isn't surprising, I wasn't really sure where the story would go and I found it simultaneously refreshing and realistic. Laurel's problems are relatable for anyone starting a new school, but compounded by her raw grief over losing the sister she loves and admires but also hasn't forgiven for leaving her.
The setting was slightly confusing. I couldn't tell if it was meant to be set in the '80s or current day or in between. Although some of the dead died recently, the lack of technology  in key instances and vintage preferences of both Laurel and May made it feel like an earlier era. Her friends Tristan and Kristen also seemed a lot more ancient than high school seniors, but that fit a bit better because they became like parents in her life, especially with the physical absence of her mother and emotional absence of her father.
Laurel seemed juvenile at times, which may annoy other readers, but I thought her voice and personality were understandable. She's young and confused and had lost the person who guided her. That time is fraught for anyone undergoing transitions and questioning their identity, so her reactions didn't annoy me as much as they might have from a different character, though I was upset that she tried to mold herself into May. However, most annoying was my incomprehension of her chemistry with Sky. Although I'm glad he seemed more responsible and less misogynistic than most YA leading men, they seemed incompatible. He mostly served as a replacement for May in Laurel's life – May was her rock, and then Sky filled the void May left.
My favorite character was Aunt Amy. Even though she was an intensely devout Christian, she wasn't portrayed in a negative light. You could see her love for Laurel and her kindness and her desire for romance of her own. I'm also glad that Laurel's dad was a nice guy. Maybe he didn't know exactly how to raise her while dealing with his grief, but you could tell he cared. Also interesting was the relationship between Hannah and Natalie, who are Laurel's best friends and in love with each other. The three of them really grew up together during the plot, learning how to be individuals and stand up for themselves.
Although the pacing is slow and the narrative jumps around in time often, this book is very well-written and not dumbed down despite the age of the protagonist. Nevertheless, I would highly recommend it for a high-school audience since its a little immature for adults and a little too mature for middle-schoolers. It's perfect for fans of Laurie Halsie Anderson's Speak or Wintergirls.
4 Stars