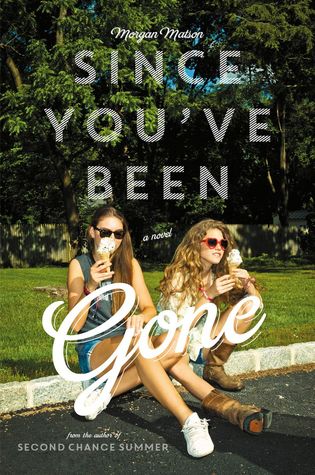 As you can tell from the cover, this is one of those light contemporary YA best-friendship stories. I picked up this book primarily because it's the end of summer and I'm feeling all sorts of Americana nostalgia for sunny days and cold ice cream and hanging out with my friends with no real purpose and no responsibilities in sight. Yeah, I'm a judgmental sucker and confess that I fell for this cover.
In Morgan Matson's Since You've Been Gone, shy, reserved Emily is excited for a memorable summer with her wild, whirlwind of a bestie Sloane. But one day at the end of the school year, she wakes up and Sloane is gone. Without a word, without a note, and without a way to trace her. Emily falls into a funk, passing her days by repeatedly calling and texting and driving past Sloane's house. Now with no plans making for a lonely summer, Emily receives a list in the mail. A to-do list of random adventures that Sloane wants Emily to accomplish. Desperately, Emily decides to fulfill Sloane's wishes and follow the instructions in the hopes that they'll lead her to Sloane. However, on the way she finds new friends and even discovers herself.
Now, the premise was a cute idea, though the to-do/bucket list trend of plot-launching is getting a tad old. Nevertheless, I was intrigued to see if Sloane would be found since she came across as so cool. Despite her disappearance, she's a strong presence throughout the book through Emily's memories and flashbacks. And she's essential to the plot because without her, Emily is frustratingly boring. The book starts off so slow because Emily just mopes around wishing for Sloane. While I get that missing a bff is like missing a limb when you're a teenager, it's slightly weird that she has absolutely no other friends and actually actively avoids the people who want to befriend her. She only met Sloane about a year before the book starts, yet now its like she's drowning without her life jacket.
Sloane's list is meant to push Emily beyond being so dependent on one person to being independent, something that Emily sorely needed. Some of the list was pretty odd but tame, like apple-picking or sleeping under the stars, but it also ranged to the slightly crazy, like kissing a stranger or stealing. As much as I was irritated with Emily in the beginning, I admired how she began to grew over the course of the book, though she needed a push in the right direction sometimes. It was great to uncover the hidden layers of Emily's character but also to see how she skewed her perception of Sloane and how Sloane needed her as much as she needed Sloane.
Emily luckily has an awesome circle of people to help her through the summer, and they were the highlight for me as a reader. Though her parents are a bit negligent in their artsy forgetful way, they obviously love their kids. Emily also looks out for her younger brother, and I was glad that they bonded in the absence of Sloane and their parents. Her new friends are also really sweet and funny, particularly goofy Collins and love-interest Frank, who is not the typical popular jock or bad boy hero – he's a nerdy, ambitious class president. It was great that they were supportive of Emily's growth but the tension of developing those new friendships still felt realistic. In particular, Collins makes a very insightful comment in the end asking if Emily thinks things will always stay the same as in that moment of summer. I can relate to her naive belief that it would, when in all honestly relationships change fluidly over the course of life so the connections they built over the summer may not last through senior year. But in the end, the reader gets a good sense of closure on the list, the summer, and the various relationships without the conclusion being too cliche.
I think this would be a great read for high school and college students, because they need to learn how to challenge themselves and how to deal with life's challenges. This book serves as a well-written and relatable example. There's no dystopia or vampires, just kids struggling with real problems. Also recommended for those who love Kelly Clarkson's "Since U Been Gone" because every time I think of this book, I can't get it out of my head.
4 Stars