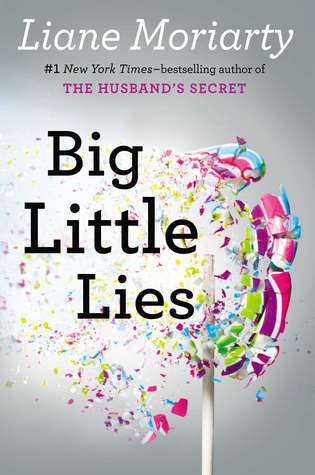 Lianne Moriarty's Big Little Lies is like if "Mean Girls" had opened with Regina getting hit by a bus, and then flashed-back to everything that happened to cause that moment. From the beginning, it starts with a bang as a dead body is discovered at the local elementary school's Trivia Night fundraiser and the police interview the witnesses. Turning to six months earlier, we learn how the suspected murder came to happen and who in fact was murdered.
Three women are at the center of the story. Madeline is loud-mouthed and a little nuts, but has a good heart – though not big enough to embrace her ex-husband's young second wife, whose daughter is joining the same kindergarten class as Madeline's youngest child. Her passionate distaste for wife #2 only grows when Madeline's teenage daughter seems to prefer her step-mother over her mother. Celeste is gorgeous and aloof, with the perfect husband, the perfect twin boys, and the perfect life (seemingly). Newcomer Jane is a single mom who is perpetually stressed and doesn't quite fit in with the other kindergarten moms, well-manicured and successful.
With Madeline and Celeste taking Jane under their wing, cliques soon start to form among the parentals, especially when an accusation of bullying arises. This situation quickly escalates into a not-so-cold war with both sides behaving badly. The rising hostility is mostly thanks to Madeline's righteous indignation and rival mom Renata's politicking, which boil on top of the usual issues of working vs. stay-at-home moms, helicopter parenting, and the like. All the characters and their reactions are extremely believable while not being cliche, which was crucial to making such a character-driven mystery work.
While this is a long book (nearly 500 pages), it's a quick and engaging read that makes you laugh out loud. However, it's a dark kind of humor since the book covers issues from spousal abuse to sex trafficking. You'll likely get whiplash from how often the tone changes, to say nothing of the twists and turns of the plot – but it's a roller coaster ride worth being on! I spent the whole book biting my nails in worry that one of my favorite characters would bite the bullet. It kept surprising me until the crazy conclusion and its aftermath, and while I picked up hints, I  never guessed how it would play out.
This was what I wanted Jennifer Weiner's Goodbye Nobody to be. Perfect for fans of Where'd You Go, Bernadette? or those looking for a more humorous version of Gone Girl with characters who aren't terrible, just human beings.
5 Stars