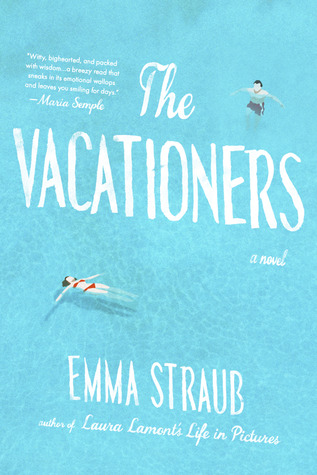 Sad news guys: I'm in a book funk. I keep reading books that I'm super excited about, that I've heard so many great things about, only to wallow in disappointment by the conclusion. Case in point – Emma Straub's The Vacationers. I'd been waiting for months on my library's hold list, starting at number 42, so that I was jubilant when the notification finally arrived that I could pick it up. By then, summer felt long gone so this was my one opportunity to relive its warm glory days by proxy.
The Post family's two-week trip to Mallorca is supposed to be a much-needed break from their real-life problems. Franny and Jim's thirty-fifth wedding anniversary is upcoming but their relationship is tense. Their daughter Sylvia, excited for her new start in college, is determined to have a summer fling after a terrible senior year. Sylvia's older brother Bobby is coming along with his much older girlfriend Carmen, who the family hates. Franny's best friend Charles and his partner Lawrence are on pins-and-needles as they wait to hear from their adoption worker. But of course, real-life baggage is along for the ride, disrupting the otherwise idyllic setting.
Now I didn't hate it, but it was just so meh. Typical dysfunctional family goes on vacation and troubles brew, only the reach a quasi-happy conclusion. In fact, it reminded me quite a bit of the television show Modern Family because of the adolescent angst, the gay couple, and the age-gap between romantic partners. Unlike the show, the book wasn't particularly humorous or creative.
The one plus was the writing, which I thought was exquisitely lush at times. Straub had the eloquence necessary to build the scenes such that highly-educated, bookish, upper-middle class characters seemed in-place in it. Unfortunately all of said characters were fairly bland and stereotypical. I only sympathized with Lawrence, with the rest ranging from mildly unlikeable to despicable. But lucky for them, they still all got a soap opera-esque happy ending.
This is definitely the kind of book I classify as a "beach read," i.e. extremely light and set in an exotic destination. Might be worth the trouble in the midst of the winter blues, but if I was on an island vacay and could only take one book with me, this would be far from it.
2 Stars
(P.S. I may be being harsher than normal because my high expectations had so very far to fall.)