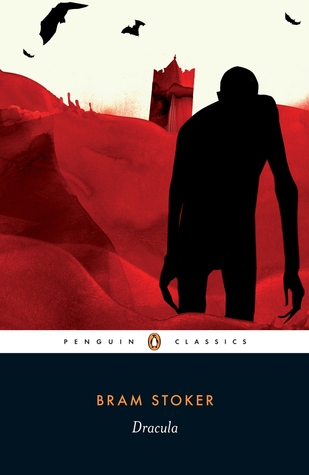 Halloween is hands-down my favorite holiday. I'm still in mourning for the fact that I have to wait a whole year for it to occur again, so I decided it was about time I read the granddaddy of the vampire trend, Bram Stoker's Dracula. And not going to lie – without even opening the book, I thought about draping garlic wreaths around the house. This cover is too freaky! It perfectly captures the creeping terror of the text.
To begin, solicitor Jonathan Harker voyages deep into the forests of Transylvania to meet with his firm's client, one Count Dracula. Despite spooky and mysterious incidents along the way, Jonathan isn't daunted and continues to the castle to assist the Count with the purchase of a London house. Soon though, he realizes he's trapped there with no hope of escaping alive as Dracula's undead brides vie for his blood.
Meanwhile, in England, three men via for the heart of Lucy Westenra, whose childhood sleepwalking begins anew inspite of the watchful eye of her best friend Mina, who frets about her fiance Jonathan's absence. By the time Jonathan, deranged from his experiences, reunites with Mina, a series of troubling instances brew – a ship manned by corpses arrives at Whitby, puncture marks are found on the necks of women and youths, wolves escape from the zoo, and a mental patient raves about his Master's imminent arrival as he murders and eats animals. Psychologist John Seward calls in his mentor Abraham van Helsing to cure Lucy's affliction and find out the truth about Dracula.
I loved this book! Told in alternating perspectives by the diaries of Jonathan, Mina, and Seward primarily, Stoker conjures an atmosphere of fear by way of lack of information. Slowly the reader can put all the pieces together with the interspersed newspaper articles and letters, but our protagonists' struggle to understand their circumstances (e.x. the wolves or the empty vessel or Lucy's bloodlust) enhances the terror. It's a technique not all authors pull off well since it's difficult to make each voice distinct, but Stoker's dexterity showed why Dracula is a classic.
Moreover, all of the characters are appealing, including the renowned Professor van Helsing, who here is intelligent and passionate but still occasionally outwitted by his ancient rival. Too many amazing of these amazing characters are cut or condensed from film adaptations, among them my favorite adorably chivalrous Texan Quincey P. Morris and the mysterious asylum inmate Renfield. But don't even get me started on the character assassination in film of Lucy and Mina! They were both such respectable women in the novel, with such a deep, strong friendship that I wanted to be friends with them. However, in the movies, one or both of them is/are turned into a whore. They do spend a lot of time talking about their men and Lucy does have numerous suitors, so I'm unsure if it would pass the Bechdel test, but they are also impressively intelligent and determined even in the face of evil.
Stoker almost helped me overcome my vampire-fatigue…and then I heard Anne Rice was releasing a new book. (Shaking fist) Darn you, Anne Rice, for making vampires the new hot thing! Not that I've read it, but I whole-heartedly recommended going back to the original vampire and reading Dracula if you haven't already or re-reading it if you have.
5 Stars