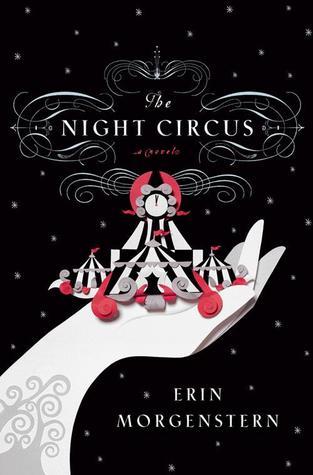 The Night Circus by Erin Morgenstern is one of those books that got rave reviews among my friend group, that I saw on every airport kiosk and bookstore window across the country, that I always meant to read but never quite got around to. I think it's length of nearly 400 pages seemed daunting but, much like in the book itself, the hurdle was rather illusory because once I began, I couldn't put it down until the end.
"Le Cirque des Reves," the circus of dreams – a mysterious name for a mysterious place that pops up around the world without notice. Open only at night, it's black-and-white striped tents contain acts beyond your wildest imaginings and it soon gains a cult-like following of fans and believers, who don't know what the circus truly hides.
For it serves as an elaborate staging ground for a magical competition between two masters of two different schools of thought. Throughout the years, they have pitted their proteges against each other in increasingly difficult feats of magic. In this iteration, naturally-talented Celia faces self-taught Marco – only one can remain standing, and the competition only becomes more complicated as they fall in love as the stakes not only include their lives, but the fates of the circus performers and patrons.
The circus is the highlight and centerpiece of the story. From the way it's conceived via dinner party conversation to how it magically grows to encompass all sorts of curiosities, Morgenstern's (admittedly flowery) descriptions artfully depict its essence. I wanted to devour the caramel apples while wandering in circles from tent to tent, jumping off the cloud maze or gazing awestruck at the acrobatics, and come back to the circus every night, much like the red-clothed rêveurs.
To be honest, how much you enjoy the story depends largely on if you buy into those rêveurs' viewpoint, which provide the reader with an outsider's awe at the circus. Although the book jumped frequently between diverse POVs (including lead rêveur Thessien's and new circus-goer Bailey's) as well as different years, I thought this tactic helped weave together the varying threads of the tale. Additionally, this allowed us a glimpse into the minds of the fascinating side characters, who added color to this seemingly black-and-white world. The young twins Poppet and Widget were fun and intriguing, symbols of hope as they were birthed with the circus' inception and juxtaposed with the older, more tragic Burgess twins. From the flashy eccentric Chandresh to the enigmatic Tsukiko, all the secondary players seemed to be fleshed out individuals who were central to the plot.
As for the protagonists, I was ambivalent towards Marco, largely because of his treatment of his initial love interest, the fortune-teller Isobel. However, I liked Celia, finding her to be impressively mature and kind-hearted despite her upbringing. Together, I found their romance to be bittersweet since they were both clearly looking for love and acceptance, having not received it from their fathers/masters. I ended up explaining away some of the hurriedness of their relationship as a unfortunate side effect of their binding contract to their masters and to the game, and that way it became more touching to see how they transitioned their magic from rivalry to flirtation. The only part I didn't love was the resolution of their competition. It seemed to end abruptly and with an ill-explained deus ex machina in the form of a seemingly-tangential character.
Still, I thought it was an enjoyable and engaging read, an exemplary entwining of my two favorite genres of fiction – fantasy and quasi-Victorian era historical fiction. So for what it's worth, with a half star subtracted for the confusing conclusion,
4.5 Stars