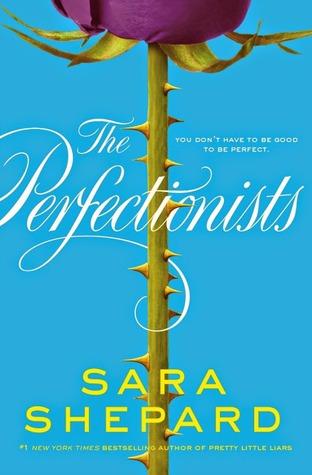 As I mentioned in my review of Sara Shepard's The Heiresses, I'm a little bit of a Pretty Little Liars (PLL) addict, having read the beginning few books of the series plus being hopelessly obsessed with the show, to the point that the identity of the notorious "A" is now a running joke with my roommate. Therefore, when I heard about The Perfectionists, a high school drama that hearkened back to my own straight-A overachieving days (which sadly(?) lacked both debauchery and mystery), I had to read it.
Nolan Hotchkiss is king of Beacon High, a public high school outside Seattle where everyone strives for perfection (hence the title). Gifted musician Mackenzie, brainy and beautiful Ava, soccer star Caitlin, and popular best friends Julie and Parker have little in common – except their mutual fear and loathing of Nolan. So when they're thrown together for a film class project, they jokingly plot Nolan's murder, only to have him drop dead at his own party in the exact same way. They're the perfect suspects, only they didn't do it and now they have to prove it before their perfect reputations are ruined.
Um, how did I not get a (1) film class in high school where (2) we watched Agatha Christie's And Then There Were None, based on one of my favorite books, and (3) I discussed how to get away with murder with my besties? So jealous of these girls already without even getting to the fancy clothes and lavish parties. But I probably shouldn't be because each of their lives sucks in some way – and it gets dark, y'all. Like child abuse, sexual predators, suicide, and drug addiction dark. Kudos to Shepard though for turning it from PSA to a serious and empathetic portrayal of real teen issues. As a result, The Perfectionists is slightly deeper than PLL, in spite of the usual boy problems.
Speaking of, the men were really lacking in this one, being mostly terrible and/or creepy. Like in her other works, Shepard focuses on female friendships and empowerment over male-female relationships of any variety. That being said, perhaps in order to avoid the inevitable PLL comparisons, I think she has one too many heroines. The narration constantly switches between all 5 of them, making certain chapters more intriguing and all chapters more confusing.
Out of the protagonists, I admired both Julie and Parker, who defied the mean girl stereotype, leaning strongly on each other through some very intense times. I also sympathized with Ava, who struggled to get people to take her seriously and look beyond her looks. However, I found myself mixing up Caitlin and Mackenzie, neither of whom really appealed to me. At least Caitlin had a very valid reason for hating Nolan and partaking in the plot – Mackenzie served far less purpose and additionally her drama was uninteresting.
That being said, Mackenzie thankfully had the most definitive ending in a conclusion that was rushed over a cliff. Nothing was tied up in the other 4 girls' threads or in the main story-line, which I found to be frustrating as I was left with more questions than answers. The book overall seemed to be mostly set-up for the next one, begging the question as to why Shepard can't just write one comprehensive book instead of a short, unresolved book in a long series of unresolved books.
I'll probably read the sequel, mostly to find out if my hunch is correct as to who the murderer is. I'm so glad that it looks like it'll only be a two-book series rather than as never-ending as PLL – definitely couldn't stand the added frustration. But while I was entertained, out of all of Shepard's books that I've read, I think I'd recommend the first 4-8 PLL books over this one.
3 Stars