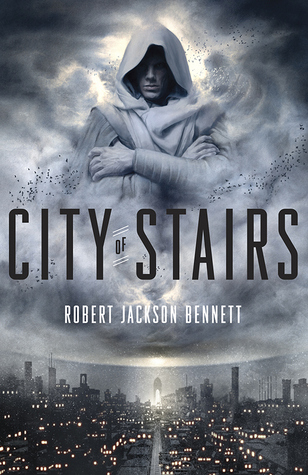 I really have Goodreads to thank for this pick, since I spotted it for the first time on their Goodreads Choice Awards nominations list. Naturally, I voted despite only having read a few books on the list – my fantasy choice was Brian Staveley's The Emperor's Blades – but I quickly added all the ones I hadn't read to my "to read" list.
The city of Bukilov, Robert Jackson Bennett's City of Stairs, lies at the heart of the continent, a noble and powerful city now in ruins after the death of its guardian Gods and the colonization by it's former colony of Saypur. With its history censored and its economic and technological development stalled, its people quietly seethe under the yoke and its administrators have their hands full keeping the peace. When a renowned historian is brutally murdered, quiet mousy Shara Divani is sent by her government under the guise of a lowly diplomat to ferret out the culprit. As a master spy and amateur researcher into Bukilov's past, she soon begins to suspect that the divine are still alive and may return to wreak their vengeance.
(Mild spoilers ahead)
First of all, I loved that, unlike most fantasies, this one was based around czarist Russia/eastern Europe and Mughal India. I've only read one other of the former and none of the latter, so it was an exceptionally fresh and exciting universe for me. The world-building was fascinating, with a rich history of intercultural relations and the miracles of the divinities, who each had distinct identities with real-world parallels. After the downfall of the divinities, their power vanished from this world, resulting in the Blink, a mysterious event in which people were lost and cities were destroyed. As a result, the one thing I had trouble envisioning was how the continent and island of Saypur were laid out in relation to each other both pre- and post-Blink, and I wish Bennett had included a map.
As for the plot, I found it to be an intriguing blend of a murder mystery, spy thriller, and epic fantasy with the added bonuses of political machinations and religious debate. From just the opening scene in the courtroom, we're treated to an insight into the Saypuri legal system, the tension between the colonized and colonizers, and the cultural and historical differences between nations. Some readers may find that they trip over the piles of info-dump, but for me the background was integrated fluidly into the present action.
The characters made the book with their complex, individual personalities. My personal favorite was soldier turned Bukilov governor Turyin Mulaghesh, a fierce and intelligent woman with a wry sense of humor, repeatedly eyeing the younger men and wishing she could retire to a quiet beach somewhere. Vohannes' passionate patriotism and flamboyance balanced out the darker parts of the narrative, especially the past of giant Viking-like secretary Sigrud and the dirty secrets behind the historic victory of the Kaj.  My preferred divinity was Olvos, who came across as a benevolent mothering figure, in contrast to her more manipulative, meddling divine siblings.
The main negative for me was that I found Shara hard to access, which is problematic since she's presumably the one we're rooting for. I loved her moments of vulnerability and the tea-connoisseur, gourmet-cook side of her personality. We get curiosity-inducing pieces of her relationship with Vohannes, doomed because he is gay not because she is emotionally closeted as I initially presumed, but her relationships with most of the other characters remain fairly shallow with faint explanations of their shared pasts. Mostly, she came off as a bit too perfect and strong for me to really embrace her struggle against the man. Additionally, her discontent with the system seemed not so much to spark change but to replace the current status quo with her own oligarchy of ideas.
Nevertheless, by combining my favorite genres, this is definitely one of the best books that I've read this year. I liked that it can stand alone, though I hear there is a sequel in the works, but at least it doesn't end on a cliff-hanger. The ending answered the majority of my questions in a satisfying way and overall it concluded the break-neck, twisting narrative with a bang.  Due to Bennett's genius genre-crossing, I would heartily and highly recommend this book for fantasy fans, mystery/thriller aficionados, or even lovers of historical fiction with an open mind.
4.5 Stars