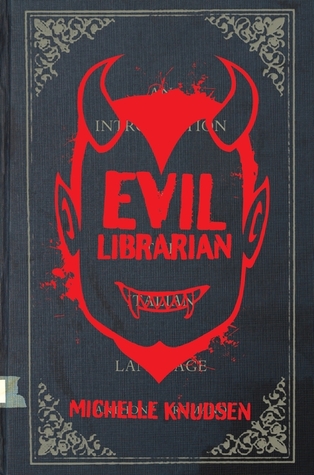 I joke a lot with my friends about needing to find a hot librarian to date, so I was amused to find it to be the plot of this book.
Cynthia Rothschild is constantly teased by her friends about her obvious, but thusfar unrequited, crush on popular Ryan, so when her best friend Annie falls head over heels for the new sexy librarian Mr. Gabriel, Cyn's looking forward to returning the favor. Then she realizes that there's something weird about Annie's infatuation and the object of her affections, and not just that he's too old for her. Namely, after walking in on him flexing his wings in the middle of a creepy ritual in the library, she realizes that he is in fact a demon. Now in addition to winning Ryan's heart and making sure that the school musical Sweeney Todd runs smoothly, she has to figure out how to vanquish Mr. Gabriel before he kills the entire school.
Once you pick up this book, you pretty much just have to go with it. The premise is definitely creative and fun. The demon culture is actually fairly fleshed-out, from their love of musical theater to the showdown for the demon throne.  Mr. Gabriel didn't seem very appealing though I guess that's because we get him through the page and Cyn's perspective. There's a sassy demonness who is one of Mr. Gabriel's rivals and the more attractive character by far. I agreed with the demons that the depiction of the  Sweeney Todd production was the highlight, more so than even the demon rumble.
Cyn was definitely someone I could see myself being friends with, and such a loyal friend as she fought to save her bestie from becoming a demon's bride. Her love interest Ryan was a jock as well as the star of the musical, an unlikely combination but a winning one. The romance between Cyn and Ryan was cute, but unmemorable. The message was much more about the strength of Cyn's and Annie's relationship in the face of men, demons, and adversity of the average teenage and mythical varieties.
Overall, this book was ridiculous but I don't have that much else to say. Even embracing that doesn't make it great, though I think fans of Buffy will enjoy it. I personally found it mildly entertaining but nothing exciting, and I would recommend it for a laugh.
3 Stars