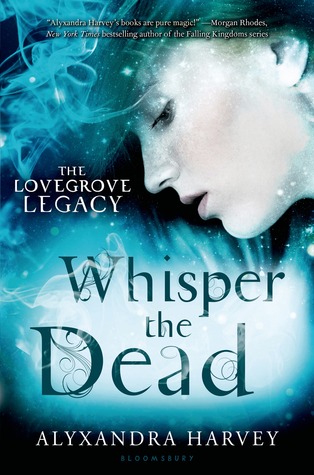 Whisper the Dead is the second book of The Lovegrove Legacy trilogy by Alyxandra Harvey. Now, I know it makes little sense to read a sequel without having read the first book of a series, and indeed it was a confusing read. But I was bored (on the same cruise with a limited library at my disposal) so I gave it a shot and it was good enough that I felt bad not reviewing it.
Cousins Gretchen, Emma, and Penelope are young debutantes who have discovered that they are also young witches after a terrifying battle with the evil Greymalkin sisters (in book #1). For Gretchen, this means she's a Whisperer, able to hear spells cast by other witches, an ability that seems more like a curse as the sheer volume of whispers cause her pain and sorting through the granary of spells to find the chaff is difficult.  But when she uncovers a plot to help the Greymalkins rise again, Gretchen must master her power with the help of her cousins, the madcap Moira, and her icily handsome guard Tobias Lawless before London falls to darkness.
So let's start with a summary, or what I gleaned from this book about the previous one. Told from Emma's POV, the cousins discovered magic and the existence of a magical world hidden in Regency London, after which they quickly infuriated the magical authorities of the Order of the Iron Nail, which both Tobias and Emma's love interest Cormac belong to as Keepers. The Keepers are men intent on imposing their rule over all magic-users and are more than a little sketchy, though not quite as bad as the Greymalkin sisters (origins unknown to this reader). Also included in this world are magical creatures such as madcaps, werewolves and werewolf hunters, and portals to Hell among other things.
This book focused on Gretchen, who is bold and tomboyish and cares deeply about her friends and family. She's the kind of girl I'd like to be friends with, who swoons over attractive men but doesn't let that compromise her values or character, a strong woman despite her sometimes impulsive decision-making and compulsive rule-breaking. Occasionally, Emma and Penelope, as well as Tobias, get POV chapters too, which really helped develop their characters from beyond Gretchen's perspective. Tobias is a particularly fascinating case-study since his initial demeanor masks dangerous secrets. His romance with Gretchen is cutely believable, but by far not the focus of the plot.
I enjoyed the universe this was set in – distinct enough from other magic-in-Regency-London books, such as The Enchanted Chocolate Pot and Gail Carriger's series – while displaying similarly beloved fantastical elements. The madcaps and the rest of the magical underworld were especially unique and lent themselves well to the more humorous elements of the plot, such as Gretchen's brother Godric's fruitless attempts to woo Moira. The reader became exposed to magic alongside the protagonists, which was a strong method of explication.
With such an engaging, action-packed experience, this might've been 4 stars if only I understood what the hell was going on at times. The fault is mine for reading the trilogy out of order, so I am willing to give the first and third books a chance at clarifying the plot, especially since book two ended with a major cliffhanger.  Thus,
3.5 Stars