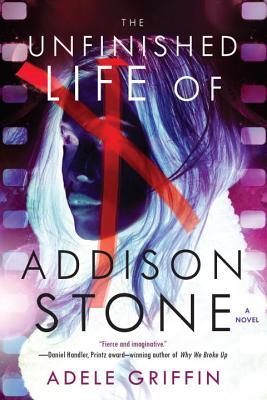 I'd heard a lot about Adele Griffin's The Unfinished Life of Addison Stone, which appeared on numerous best books lists in 2014. Still, it wasn't necessarily one I was rushing to read, seemingly too artsy and "cool" for me, so I was pleasantly surprised by how engrossing it was when I did.
Addison Stone – artist, daredevil – fell to her death on the night of July 28. Was it an accident or was it murder? With her friends, fans, and critics still mourning the loss of her and her talent, Adele Griffin pieces together Addison's short, memorable life from her impoverished youth to her subversive street art to her high-profile romances and meltdowns,. Through these interviews and Addison's portfolio, Griffin exposes the truth of who Addison was, and what led to her violent drowning at age 19.
This was one of the most innovative books I've read. Griffin wrote as if she was the fictional biographer of fictional art savant Addison Stone, but it was so well-done that I was convinced that Addison was a real person. Griffin employed model Giza Lagarce to be Addison, using Giza's own photos and social media presence to shape who Addison was. These items, along with fictional news clippings and "Addison's" art (created by actual artists), are scattered throughout the text, interspersed with "real" interviews with Addison's circle.
Addison herself is not someone I'd want to know, but comes across like a Zelda Fitzgerald/Lindsay Lohan-esque celebrity – the fascinating train wreck that people love to read about in supermarket tabloids and gossip about their misfortune.  Her life is certainly unfinished, but that's unsurprising because she's an archetypal tragic artist, dabbling in drug/alcohol abuse and getting high off of increasingly dangerous stunts that increase her fame and border on criminal. I don't fully understand what drew people to her and kept them obsessed with her; however, I appreciate that Griffin's interviews built a character who was multifaceted and clearly invoked a myriad of feelings among her friends, family, and enemies.
I sympathized more with these people around her because Addison could be both immensely loving and incredibly cruel. She knew how to hurt the people around her, but didn't realize how that was harming herself, especially through her pranks on ex-boyfriend Zach. Her friends and family tried to do the best they could, but sadly there wasn't much that could be done with Addison being so self-destructive and unwilling to accept the help she needed. Her childhood best friend Lucy and NYC BFF Erikson particularly tugged at my heartstrings because I could feel the love they had for Addison but empathized with their need to form their lives outside of her orbit.
One of the few things I didn't like about this book was the odd supernatural element. Griffin hints that an actual ghost could be at least partially responsible for Addison's declining mental state since her hallucinations and neuroses begin in earnest after a stay at her grandparent's house, where reputably a young artist named Ida died unknown. Addison definitely believed she was haunted by Ida, and I guess that's what matters, yet I thought it was an odd insertion into a very real world-grounded narrative. Additionally, I do wish that we at least had some brief snippets of Addison's unadulterated voice (besides through her art) because I'm curious about how she viewed her life.
Addison's story and persona isn't new, but the format is what makes this book come alive. Reading wholly through Addison's eyes wouldn't present as full of a picture of her life whereas this mode provided unique insight into her, her fandom, and the commercialization and media sensationalism of celebrity. Despite being fictional, this book reads so realistically that I highly recommend it, even and especially to those who aren't interested in this subject typically.
4 Stars