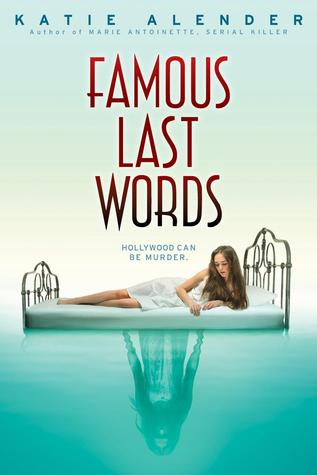 Willa sees dead people. No, not really, but Willa is having hallucinations  of dead bodies in the pool, terrifyingly cryptic notes on her walls, someone else's reflection in the mirror. She has just moved into her successful movie producer stepfather's new home, and is afraid that her crazy will ruin her mom's newfound happiness. Meanwhile, girls are turning up dead all around Los Angeles, with the crime scenes looking creepily similar to old movie murders. At first, she can keep her crazy to herself, but as eerie connections between her visions and the Hollywood Killer arise, she knows she must share what she knows to get to the truth. Unfortunately her new friend Marnie may be untrustworthy and both handsome assistant Reed and smart loner Wyatt are hiding secrets.
Feeling guilt over her father's death, Willa has been dabbling in summoning spells and other witchy rituals in the hopes of contacting his spirit, which makes her more than a little weird and very friendless. (Okay, real talk: I probably would've befriended her in high school, even though she's so broody, because the occult obsession is my type of weird.) Regrettably, after moving into her new stepfather's mansion, she is actually contacted by a spirit, just not the one she was hoping. She thinks she's going crazy, and she is a little crazy, but mostly a fairly relatable protagonist who understandably struggles with adjusting to her new family and making friends at her new school.
Luckily there's two attractive young men who like her type of crazy. This was almost a love triangle, but thankfully steered clear of that as Willa has few romantic interactions with either her stepfather's PA Reed or her slightly creepy, Hollywood killer-obsessed schoolmate Wyatt. Unlike many YA leads, she mostly keeps her eye on the prize – getting over her father's demise and solving the,deaths of a couple young women in the process. While she occasionally acts impulsively, she also has decent deductive skills and behaved more rationally than the average B-grade horror film survivor.
This book reminded me of the Black Dahlia or of a less sordid Heather Graham novel, with way fewer chills of the supernatural and serial killer sort. It was surprisingly uneventful for a murder mystery, though the climactic confrontation with the killer of course was a highlight. This would be a good beachy read for the thriller-loving teen with its combination of Hollywood glam and homicide; however, it didn't do much for me.
3 Stars