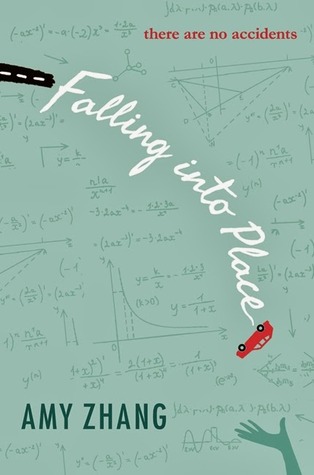 My library's website actually brought Amy Zhang's Falling Into Place to my attention. It popped up on the homepage as a newly published must-read and, trusting the librarians, so I did.
Meridian High's most popular junior Liz Emerson is a bitch. And she knows it but karma hasn't quite caught up to her. So on the day they studied Newton's Laws of Motion, she decides to put them into practice by running her Mercedes off the road. To others, it looks like an accident – they mourn and gossip at the hospital as Liz clings onto life. But the reader, by way of an unexpected narrator, is taken on a ride through the pieces of Liz's life to discover how humans impact each other, how little incidents cause large effects, and how everyday actions can chip away at someone on the inside, even someone who seems like they have it all.
(Spoilers ahead)
At first I'm thinking, no way in hell am I going to feel bad for a girl like Liz. Knowing that she hates herself for everything that she has done, from enabling her best friend Julia's drug addiction to humiliating her admirer Liam Carrie-like in front of the whole school at Homecoming, still didn't redeem her to me. Even though she was depressed by her bullying, she kept making the same dumb mistakes. However, I did think she was fixable and apparently she had given up hope of that herself. The saddest part though was that despite her nastiness, people still loved her and I think she failed to completely take into account the even more harmful effect that her death would have on them than her life did. Seeing her mother, her friends, and her secret admirer react to the news of her crash and maintaining hope as she lingered in a coma was heart-wrenching.
The narration was odd, skipping around between people and from first-to-third person, though necessary for the disjointed vignettes and time-traveling plot to work cohesively together. I tried guessing at his identity and my guess (her dad) was incorrect, but I still maintain that would've been more poignant! I think it was a cop-out that it was an imaginary friend, yet the tragic fact that her playing with this imaginary friend inadvertently led to her father's death was surprisingly insightful into Liz's character, if inexcusable as a motive for her future mean-girl transformation.
But it's the writing that really makes this book – raw and honest enough to feel authentic but not veering too far into teen dramatics, even though there was plenty of sex, alcohol, and rock'n'roll. I was so shocked to learn that Zhang wrote this in high school! She's got a bright future ahead of her, brighter than her characters definitely.
What mostly kept this from being higher rated was the conclusion, where we're left to wonder if Liz changes or continues living her life as bitchily as she had before the accident. I understand that perhaps the author wanted to keep it open-ended as life is, but for me that negates the whole point of us (and her) reexamining her life and choices. Although it is implied in her choice to live that she still has hope of redemption, that doesn't suffice for me to be emotionally positive at the conclusion. It just left me with an unsatisfied feeling.
A cross between Lauren Oliver's Before I Fall, which I liked, and Gayle Forman's If I Stay, which I disliked, it also somewhat reminded me of Matthew Quick's The Good Luck of Right Now in it's focus on action/reaction and human inter-connectivity. I think this would be an inspiring read particularly for older teens, though I would recommend it to any fan of contemporary YA.
3.5 Stars