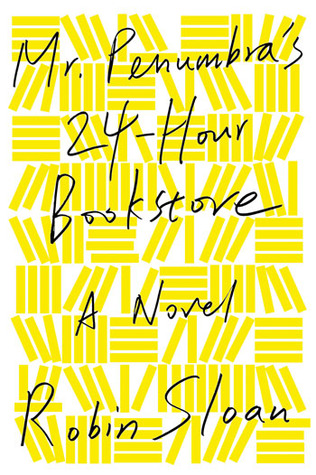 Dear God, do I love books about books! What bookworm doesn't? And Mr. Penumbra's 24-Hour Bookstore by Robin Sloan is one of the best out there.
Clay Jannon fell victim to the recession, losing his job as a web designer for a startup in San Francisco. In desperation, he stumbles across Mr. Penumbra's 24-Hour Bookstore – hiring now. Compelled by Penumbra's stocking his obscure childhood-favorite fantasy series, Clay takes a job as the night clerk with all its weird quirks, including the odd assortment of characters that appear at all hours. As Clay discovers the bookstore's secrets with the help of his artistic roommate Mat, his Googler love interest Kat, and his nerdy millionaire best friend Neel, he realizes there's more to Penumbra, and to the bookstore, than meets the eye.
Sorry, y'all, I know that's a pretty terrible book summary – the book encompasses so much more (even books within books!) but it's so hard to describe succinctly. It's an epic quest filled with mystery and fantasy, and a love-song to both typography (Gerritszoon) and technology (Gerritszoon on Macs!). The conflict between the past and the future is present throughout the narrative, lending a heavier weight to Clay's adventure as he confronts the moral and intellectual quandaries that all of us face in the new digital age.
I wasn't too fond of Clay at first, thinking him a dull, one-dimensional creature in comparison to the fun oddball assortment of characters surrounding him. But as the story continued, his everyman persona helped me the reader adjust to and engage in the puzzle-solving, especially as the titular Mr. Penumbra remains almost mythological. Without a doubt though, my favorite character remains Clay's childhood best friend Neel who, from his genius money-making breast simulation company to his enthusiasm for Dungeons & Dragons, is completely adorkable.
There's a lot of 21st-century product placement here, particularly heavy-headed sections about Google with trips to Mountain View and homages to their book scanner. I love Google but I was kind of excited to see Google lose for once, and the underdog (i.e. old fashioned "technology") to win. I guess in that respect, I'm more similar to the villain of the piece than Kat, especially as this book has made me more than a little suspicious of the evil genius lurking in the depths of Google. At least Kat demonstrated a strong feminist figure as an expert programmer and ambitious leader within Google, though she channeled a snotty teenage Voldemort with her obsession with immortality and technological fanaticism.
The denouement was disappointing and unclear, with Sloan having slowed down the plot pace significantly but still rushing to weave together all the threads. I found myself so annoyed by the ease of Clay's ingenuity in solving the mystery and his extraordinary luck in having a veritable guild of skilled sidekicks that this was one conclusion I would've liked to be less definitive and more difficult. It was dispiriting all in all. For those reasons, I can't quite give it 5 Stars, though the charm of the middle convinced me I would.
4.5 Stars