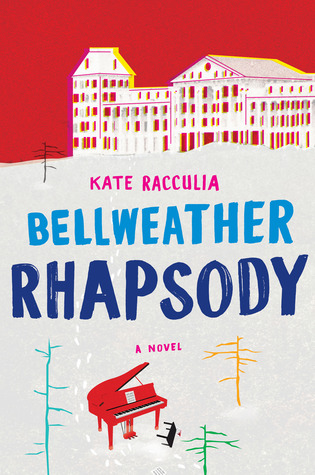 A few reviewers have called Kate Racculia's Bellweather Rhapsody a cross between Glee and The Shining – so how could I resist?!
Twins, shy Rabbit and diva Alice, arrive at the crumbling Bellweather Hotel for a high school music festival that could make or break their dreams. Escorting them is slightly alcoholic failed musician turned high school teacher Natalie, who is wrestling with her own demons, including sociopathic Viola, the scheming new head of the festival. But can the music go on when a young music prodigy disappears from her hotel room, one that is haunted by a murder/suicide of a newly married couple years prior?
This Clue-like plot rivets the reader, but unfortunately there's too many side plots and sprawling characters that take up valuable written real estate. Minnie, who witnessed the tragedy as a young child and is returning to the scene of the crime as a dysfunctional adult to help herself recover from the trauma, and Alice seem to be the only ones who care about Jill, the flute phenom who disappeared after Alice reports seeing her hanging. Jill's mother Viola simply seems intent on striking terror into the hearts of the attendees, including Natalie, while the other ostensible chaperone is seven-fingered conductor Fisher, who is his own brand of crazy. Rabbit is distracted by his struggles to come out to his sister and his impending basoon solo, while the hoteliers seem to be largely ignoring the chaos. It takes a few hundred pages and more death for the police to arrive.
By the climax, most of these threads come together, yet I found them to be a distraction from the mystery I really cared about. Agatha Christie it isn't. The ending was twisted, in an entirely good way, except for the fact that the why of the murder/suicide was unexplained. For some reason, this really bugged me even though it really didn't matter that much to the story.
It's a quick, most likeable read, but the jumble kept me from loving it. Good for those who enjoy dark humor and with a macabre spirit, but not nearly as great as it aspires to be.
3 Stars