For forty years, peace has prevailed between the kingdom of Goredd and the dragons, whom have taken human shape to serve as ambassadors, scholars, and teachers. Gifted musician Seraphina Dombegh has benefited from their knowledge, and was recently hired to be assistant to the court composer when a member of the royal family is found murdered. All signs point to a dragon as killer and tensions run high as the anniversary of the treaty approaches. Seraphina finds herself at the center of the investigation, under the watchful eyes of Prince Lucian Kiggs, and must struggle to uncover the truth even while hiding her own deadly secret.
Rachel Hartman's Seraphina was one of the best books I'd read in 2013, well before I started this blog, and one of my favorite fantasy books of all time. Seraphina proved to be a bold and intelligent, yet relatably vulnerable heroine – so very human despite her hidden part-dragon nature. Her supporting cast, from the menagerie of "grotesques" to the swoon-worthy Kiggs to the charming Princess Glisselda, were all equally compelling as was the surprising villain. And the dragons are like no other dragons in print. This book had it all – politics, art, religion, all wrapped up in strong writing that ended with me begging for more.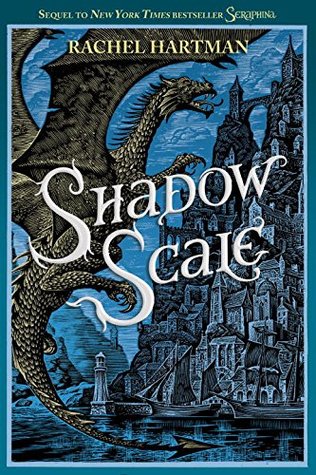 So I obviously picked up Shadow Scale as soon as I could get my hands on a copy from the library. In the sequel, Seraphina has exposed herself as half human, half dragon and must search for more of her kind to halt the deadly war between dragons and humans. I was thrilled to widen the world she inhabits, especially as Hartman increased the character diversity and was respectful of race and sexuality, but sadly many of my favorite parts of the first book were shafted. We barely glimpse Kiggs and Glisselda, and the resolution to their love triangle was frustrating. Most of the book follows Seraphina slowly meandering to find her kind, but there's too many found to keep track of or develop well. The villain of this piece is disappointing, and is vanquished in an even more dispiriting deus ex machina. Worst of all, Seraphina lacked her character spark and agency – she doesn't play music or hunt down murderers, she just sulks and twiddles her thumbs for 2/3rds of this lengthy volume.
I'd still take another glimpse into this world, though it seems like this is Hartman's last, at least focusing on Seraphina. But I was incredibly disappointed by how the duology wrapped up since my expectations were so high following the first book. I'd still highly encourage fans of music or dragons to pick up Seraphina as it's a truly magical, well-constructed YA fantasy but continue on to Shadow Scale at your own risk.
5 Stars to Seraphina & 3 Stars to Shadow Scale