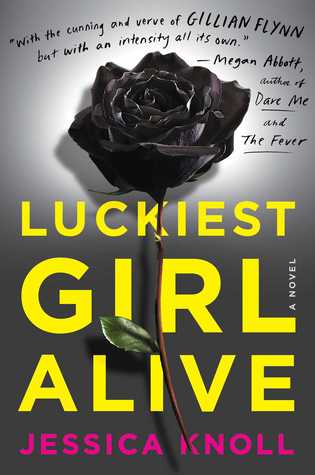 I'm sick of things being labeled "the next Gone Girl." Maybe because I didn't love Gone Girl (I know, blasphemy, right?) or maybe because of half of the books with that label are absolutely nothing like it. Like Jessica Knoll's Luckiest Girl Alive.
Ani FaNelli seemingly has it all – good looks, a glamorous NYC job, and a filthy rich fiance. But a dark secret from her past haunts her, threatening all she's worked to achieve. When a documentary crew seeks to reveal the truth behind a terrible incident that occurred when she was a teen at the prestigious Bradley School, will it ruin her perfect life or will it set her free at last?
(Spoilers ahead)
In addition to having the worst fictional name ever, (Tif)Ani FaNelli is no Amy Dunne – I admit Amy was creepy brilliant, even if I couldn't stand reading her voice, but being in Ani's head is mostly dull. She tries too hard at being bitchy, at being cool, at being anything but the bland needy crazypants she is. I understand that her childhood trauma has screwed her up, but unfortunately I can't feel that bad for her because she's so awful to nearly everyone in her life and, until basically the last few pages, has had no character growth over the last 15 years.
The pacing is off throughout the story. It was so slow to get into, especially with chapters shifting between the past and the present, and there's like 0% twist. Painful hidden past, yes – Ani was drugged and raped as a fourteen year-old, which partially led to a series of incidents that culminated in a school shooting. This is all terrible, but not terribly surprising as it's heavily foreshadowed. I thought the twist would be that Ani had something to do with the massacre as retribution on her the popular kids who assaulted and bullied her, but she only thought about revenge and didn't actually do anything wrong except killing her ex-friend (one of the shooters) in self-defense.
With no compelling characters (though snaps to Mr. Larson for mostly not being a pervy teacher!), no shocking plot points, and after all the millennial bride-angst, not even a wedding (!!), I can't give this book anything but a mediocre rating.
3 Stars