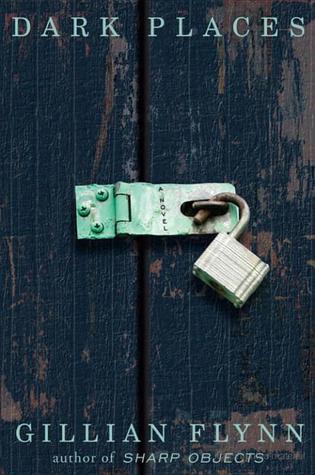 I was one of the odd few who hated Gillian Flynn's Gone Girl. Naturally I was less than thrilled that my book club picked Dark Places for it's October read, and so I didn't even attend. However, the urge to read something in theme with my favorite holiday plus the encouragement of friends who claimed that I'd probably like it more, finally convinced me to read it.
Seven year old Libby Day survives the brutal massacre of her mother and two sisters. Traumatized and injured, she testifies against her fifteen-year old brother Ben, who is found guilty of "The Satan Sacrifice." Twenty-five years later, the news has moved on to other victims, but Libby's still stuck in the past, unable to live. As her trust fund of donations from well-wishers dwindles, she agrees to help the Kill Club, a secret society obsessed with true crimes and convinced of Ben's innocence, discover the truth. But her attempts to reconnect with and interview the players from her childhood end up revealing secrets that the killer would rather keep buried.
Although the description sounds like a bad Hallmark movie, I still nurtured hopes of a good read. Unfortunately, from the first pages, I detested Libby (though in fairness, possibly not more than she detests herself). I don't want to victim-blame, but she hasn't even tried to pull herself together, instead living off the generosity of others and being cruel to anyone who tries to be kind to her. Thirty-two is too old to be playing the angsty teenager card. She's a detestable human – not to get into this debate again, but while characters don't necessarily need to be likeable, they need to be tolerable to read about. I couldn't stand the pages upon pages of her sniveling and mindless self-absorption.
I did enjoy the alternating chapters between the past and the present, both because it served to build anticipation towards the mystery and because it offered a break from Libby's perspective. I at least sympathized with her mother Patty for having to raise such shitty children alone and for doing the best she could in bad circumstances, but am not particularly interested in the struggles of being a poor farmer in Kansas or being a wannabe-Goth teenage boy in a small town. Ben was cast from the same mold as Libby, all rage and sulkiness. Thankfully Flynn writes that type well and it's not surprising that he was suspected of murder.
The truth of course is even worse, and I won't spoil it except to say that at least Ben embraced the consequences of his actions. Libby never does, ending her story in only a marginally less pathetic way that it started. To be honest, any character development in between I probably missed because I skimmed over a good chunk of the middle out of boredom. Needless to say, this is the last time I'll pick up this particular author. She triumphs in creating twisted characters, but with so much of that in the news, I don't need it also pervading my fiction.
2 Stars