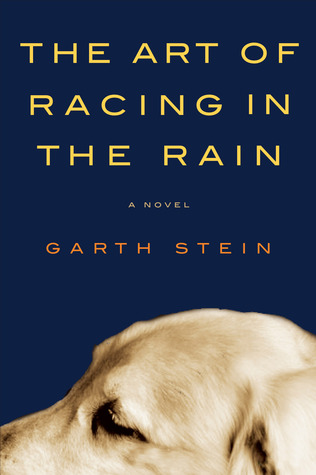 Garth Stein's The Art of Racing in the Rain isn't at all my usual kind of book being a family-drama oriented contemplative contemporary, but I do adore dogs and I was oddly in the mood for something deep. Besides, doesn't Enzo look so cute on the cover?
Enzo isn't your average dog – self-educated by watching television while his human Denny Swift is at work, he considers himself to be a philosopher and an insightful observer of the human condition albeit with a slight obsession with opposable thumbs. As death comes for him and he yearns to be reincarnated as a human, Enzo muses on his life with up-and-coming race car driver Denny, who has taught him so much about family, love, loyalty, and racing in the rain.
You'll be glad of those opposable thumbs when you're reaching for the Kleenex! This book manages to be both sharply perceptive and casually moving. You would think it's weird being in the head of a dog, but Enzo comes across as relatably human-like while still possessing the loveable dog-like qualities. He can go from musing about reincarnation to playing fetch in the turn of a page.
As for his best friend, I wasn't sure I liked Denny at first – having lived in Daytona Beach has turned me off of Nascar and I couldn't fathom his and Enzo's enthusiasm for the sport or enjoy the endless discussion of racing. But he is sincerely a good man trying to make the best life he could for his family, and I sympathized with him because of his bravery and perseverance despite all he endured. Thankfully after much devastation, the ending was feel-good and satisfying, with happiness found for both Denny and Enzo.
All in all, a beautifully-written, original work that reminded me of Where the Red Fern Grows and Homeward Bound.
4 Stars